Wonderland in Greece: the Katikies Hotel, Santorini
Enjoy Santorini at its best and visit the finest and most luxurious place which is called the Katikies Hotel. If you decide to stay here for your holiday, you definitely do not want to leave it ever!
If you are keen to organize a big Greek holiday in Santorini, firstly you should choose the best option that fits your needs. The Katikies Hotel is suitable for families, group of friends, and couples who would like to have a romantic getaway in Greece. Also, they have a separated honeymoon suite which provides excellent and fancy opportunities for newlyweds. Katikies luxury hotel in Oia Santorini is mostly known for its world-class services, warm and kind atmosphere, and sense of romance uniquely combined in an exceptional setting and natural environment. This hotel is kindly inviting its guests in order to experience moments of pure luxury at one of the best hotels in Oia Santorini. It has more than an excellent location as it is situated only eighteen kilometres away from Santorini airport and Athinios port. This gorgeous hotel is regarded as one of the best hotel there for its bespoke services and high-end accommodation options. It has perfect facilities and amenities such as three infinity swimming pools, indoor jacuzzi, sunbathing deck with open air jacuzzi and a small library too with great internet facilities.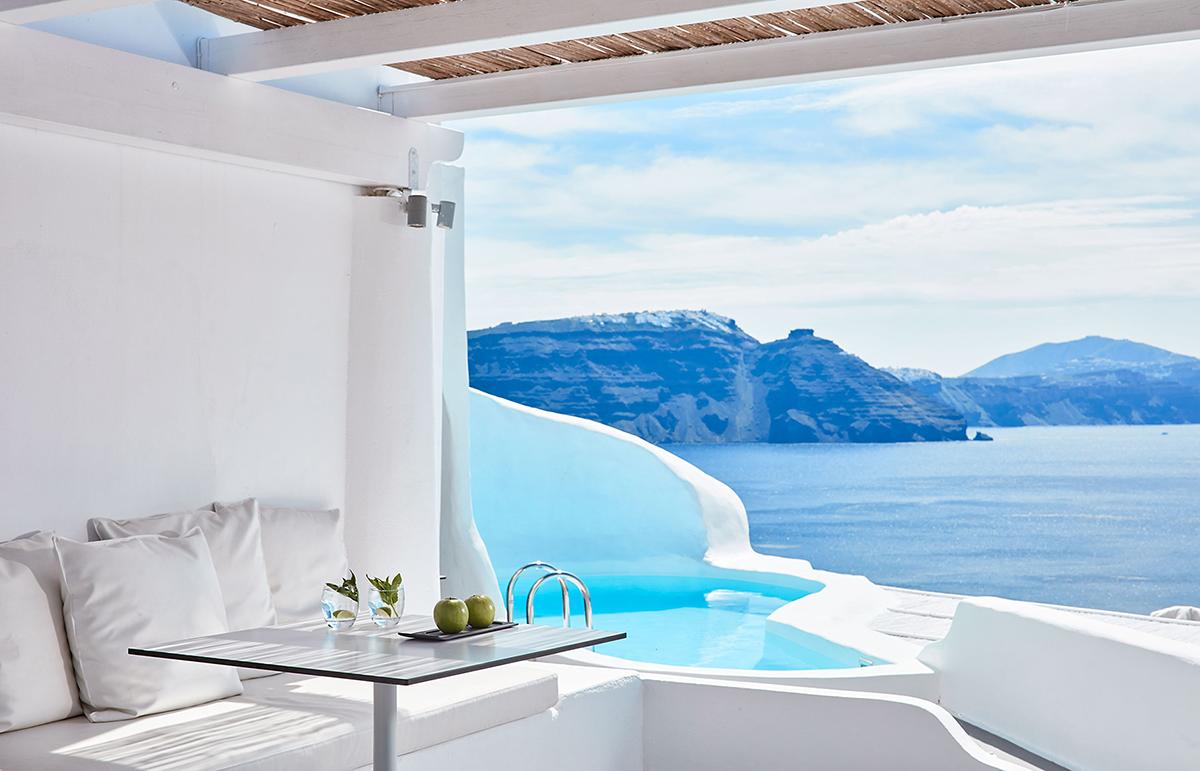 Regarding the accommodation, delicately furnished elegant and luxury rooms and suites with fine cottons are available. Each room and suite is really original, all of them have their own and unique design. Also, they are complemented by new and innovative design, both everlasting and romantic in stature. Depending on your own preferences, you have the chance to book one of the following types of rooms and suites:
Double Rooms

Junior Suites

Senior Suites

Superior Suites

Honeymoon suites with open air jetted tub: these honeymoon suites have contemporary and classic Aegean details throughout the living and sleeping areas. It has a major terrace, an open air dining area, a private sun deck, a jacuzzi, all with gorgeous Caldera views.

Katikies suite open air with jetted tub: it provides luxury living arrangements featuring a fireplace open out onto a panoramic terrace with a jacuzzi, lounge and dining arrangements overlooking the fabulous Caldera cliffs and the Aegean sea.

Master suite with private plunge pool

Banner: cikk banner 01 - cikk közepére ezt szúrd be
The hotel has amazing food and drink opportunities, they offer traditional Greek and of course international dishes as well. For instance, at the "Mikrasia" restaurant you could try the real Greek Anatolian cuisine to be savoured. Its menu is inspired by Smyrna's multicultural cuisine but it incorporates modern techniques in order to ensure the gastronomy aligns for fine dining. The Katikies pool bar and restaurant offers delicious cocktails, classic aperitifs, and a customized selection of delectable "hors d'oeuvres" accompanied by soft music.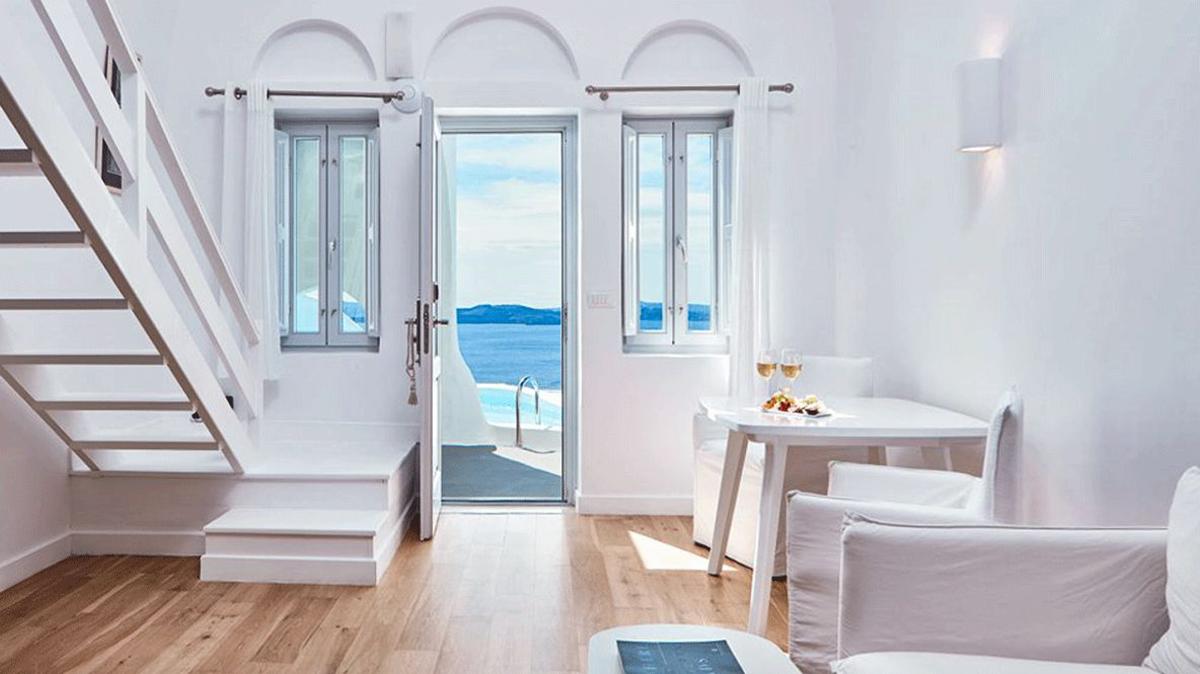 Moreover, we can kindly recommend you the A. SPA which provides a unique and holistic spa experience. It is a real oasis of luxury that gives you refreshing and relaxing hours.
Banner: cikk banner 02 - ezt a cikk vége felé szúrd be, hogy egy cikkben 2 eltérő banner legyen
Here you can check out our ratings:
Location - ****
Style and character - *****
Luxury and elegance - ****
Cleanliness - *****
Service and facilities- ****
Spa - *****
Food and drink - *****
Rooms - *****