Luxury holiday in Cancun, Mexico: JW Marriott Cancun Resort & Spa
Do you have a plan to visit the beautiful city of Cancun in Mexico? We recommend you below one of the best luxury hotel options. It is an elegant, fancy, magnificent place with a wide range of unique experiences.
JW Marriott Cancun Resort & Spa offers numerous amenities including spacious, sand-toned accommodations, on-site dining and premier access to alluring destinations. It situated on the beach and surrounded by the Caribbean Sea. It has a great location as it can be easily reached. In Cancun, you could dedicate a day to exploring the historical Mayan ruins and experience the area's lively clubs and bars.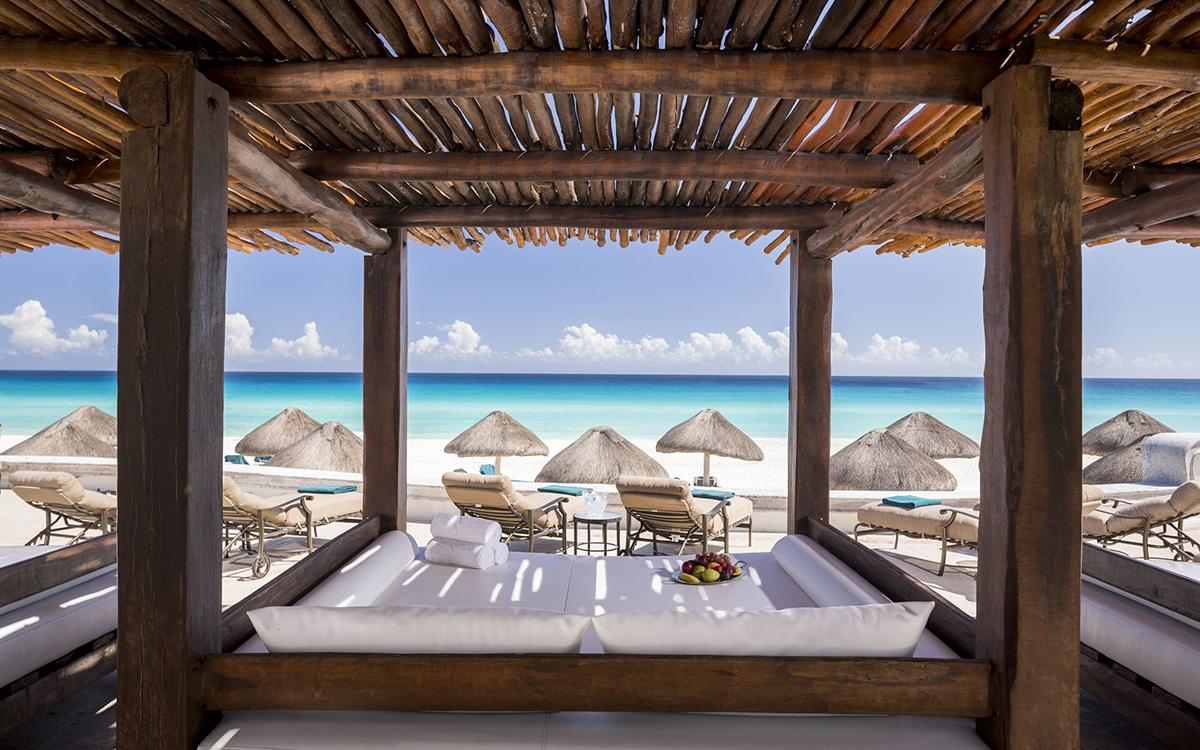 Guests can have a luxury comfort in the Cancun Hotel rooms and suites which are elegant, modern and all of them offer a satisfying 24 hour room service. If you decide to stay at the JW Marriott Cancun Resort & Spa, firstly you should check out the following options:
King Premium Room

Premium Double / Double Guest Room

King Premium Room

Premium Double / Double Guest Room

JW Suite – Bedroom

Caribbean Suite

Ocean Front Suite – King Bedroom

Presidential Suite

Banner: cikk banner 01 - cikk közepére ezt szúrd be
Additionally, guests have a wide range of possibilities if we talk about excellent food and drinks:
Gustino Italian Grill: on the lobby level of the Cancun resort, their first class Italian restaurant boasts an extensive wine selection and classic Italian dishes, utilizing the finest ingredients. The chefs create menus that are perfect for each season.

Sedona Grill: at this place you have the chance to try the very best local Mexican cuisine.

Lobby Bar: it offers delicious and refreshing beers, fine wine and handcrafted cocktails including the popular margaritas.

Beachwalk: here you can satisfy your cravings with the Beachwalk's variety of deluxe sandwiches, fresh salads, tropical cocktails, and of course Caribbean specialities.

Gift shop and 750 Pizzeria: at this place you can have tasty pizzas, empanadas, Italian ice cream, espresso and coffee, and refreshing beverages as well.

Mikado Japanese Teppan Yaki: this restaurant provides magnificent Japanese food, including sushi too.

La Capilla Argentina Steakhouse: guests can visit the steakhouse for its Argentine dishes, fused with Italian, Spanish and French culinary influences.

Champions Sports Bar: it is a fun atmosphere for a lot of occasions, including American favourites.

Sasi Thai: it is housed under vast palapas overlooking the enchanting, beautiful Caribbean Sea.

Kasai: it offers a unique experience of Japanese culinary which includes sushi, grilled items and sashimi as well.

Sacbé Beach Shack: it is the perfect place in order to enjoy the fabulous Caribbean Sea with a live DJ in a casual atmosphere and in the comfort of a hammock or picnic table.
The hotel offers a special Spa which is absolutely Mayan inspired. Here you can enhance your Cancun getaway with different types of massages, facials, fitness classes, steam rooms and Mayan inspired treatments which are based on ancient rituals. Moreover, the full Cancun kind of relaxation can be completed with the breathtaking ocean views and with an Olympic style pool.
Banner: cikk banner 02 - ezt a cikk vége felé szúrd be, hogy egy cikkben 2 eltérő banner legyen
Here you can check out our ratings:
Location - ****
Style and character - *****
Luxury and elegance - *****
Cleanliness - *****
Service and facilities- ****
Spa - *****
Food and drink - ****
Rooms - *****